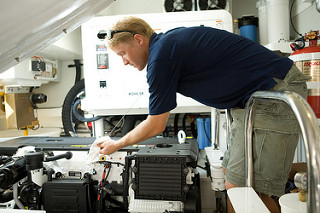 Before buying our first boat my wife asked one night over dinner "What is the Cost of owning a yacht?" I was taken back as I had not researched this very important question.
"What is the true cost of yacht ownership?"
The next morning I awoke early and started pouring over the vast amount of information I could find on the internet that lent itself to the true cost of owning a yacht. Wow!  This was the one topic hardly ever discussed by brokers yet a very important one. Owning a yacht service company is incredibly helpful when it comes to sourcing these true costs as we bill for them daily but to get an introspective look into the true cost of owning a yacht I reached out to my favorite yacht brokers and yacht owners. Over the course of 1 week I must have spent 5 hours hearing stories-good and bad-about the selection process of buying a yacht and how it can effect the cost of owner ship.
I found that the 3 most costly factors in yacht ownership are..
Crew
Maintenance
Dockage
Yacht Crew
Yacht Crew are necessary for vessels over 80 feet and on average costs the owner $6,500 per crew member, per month for vessels up to  120 feet in length. How many crew members are necessary depends on the capability of the hired crew and the level of service demand by the yacht owner. While yacht captains and engineers typically make $750-$900 per ft per year mates, deck hands and stewardess typically make %20-50% less depending on the experience they bring to the yacht team and demands of the yachting program. So do the math.. 80 ft boat, 2 crew members $13,000 per month. 130 ft boat 5 crew members $32,500 per month.
Yacht Maintenance
The cost of Yacht Maintenance becomes more costly as the age of your boat approaches 5 years, it's at this time that boat repairs become more frequent because of misc batteries,pumps and seals throughout the boat expiring, it's at this time that gelcoat repairs and yacht paint repairs become more frequent as well. It's safe to say that the following scale is a fair measure for the cost of yacht maintenance on boats 1-10 years old based off the value of the boat. Keep in mind these cost don't include fuel and food for the adventures ahead.
2% of boat value-this is relatively low because often time repairs and maintenance are included in the warrantee provided for by the yacht manufacturer
2.5% of boat value-warrantee usually expires for the yacht at the end of this year
3 % year 3 is a great year for the boat as many of the shortcomings from build are already sorted out
4%
4.5%
6 % -often times many consumable maintenance items need replacement
6%
6 %
7 %
7.5 %
Yacht Dockage
Just like Realestate, wherever people want to be.. the prices for yacht dockage are typically higher. The cost of running and operating a marina can be high so the most dependable and desirable marinas usually have higher rates. Sometimes summer time rates help ease this expense but on average price for dockage is between .50 cents- $3.00 per ft per day. So for an 80 ft boat low end dockage is $1,200 per month and high end dockage can be $6,000 per month–of course the higher cost puts you near the designer shop and chic restaurants of your favorite port town;)
Freedom Yacht Services specializes in delivering affordable yacht services and solutions for your yachting lifestyle. Whether it's helping you purchase a new boat, sell your existing boat, servicing your boat or detailing your boat we are here to help-located at the biggest do it yourself shipyard in the states-Lauderdale Marine Center Call today..954-732-8916