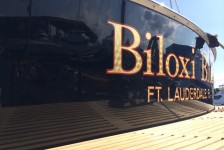 These simple p.m products and recommendations will help shield your
vessel's beautiful cosmetics from the elements.
So after your new paint job or
waxing pay special attention to your…
WASH DOWN
• Water Filtration- If using water from the dock make sure it goes
through a proper Wet Spot water filter to remove hard minerals,
using onboard water is probably the most ideal as it usually
goes through a few staging filters to provide the softest cleanest
water just make sure plenty of water is in the holding tank.
• Routine Wash Soap- We recommend Mcquires gold automotive
soap or Awl Wash as an ideal wash down soap because of it's
near neutral PH any soft automotive gel-soap will work, just
make sure to use proper concentrate to water ratio. This can be
achieved easily by adding the water to your bucket 1st then the
cap of soap concentrate.
• Wash Mits- We recommend Shurhold's Soft Wool Pad also for
outboard areas there is a version that wraps around a backing
plate and onto the Shurhold Pole, great for cleaning
overheads as well.
• Wash Brushes- We recommend soft, blue (colored) Shurhold
brushes these are perfect for painted boats and gelcoat boats
with a fresh coat of wax.
• Maintenance wash soap- We highly recommend buying a few
bottles of Permanon wash down gel soap-USE 1 time per
month-this will clean and add a silicine polymer to the existing
wax to help bolster and maintain it.
• Maintenance Spray- Permanon super shine spray- I recommend
applying this every 6 weeks to all surface, use it on everything,
windows, stainless, table tops, glass it's in a super concentrated
form but makes 30 liters to last you forever. Use distilled water
to mix, follow recommended ratio and only do 3×3 feet areas at
a time as this product locks up hard in direct sunlight.