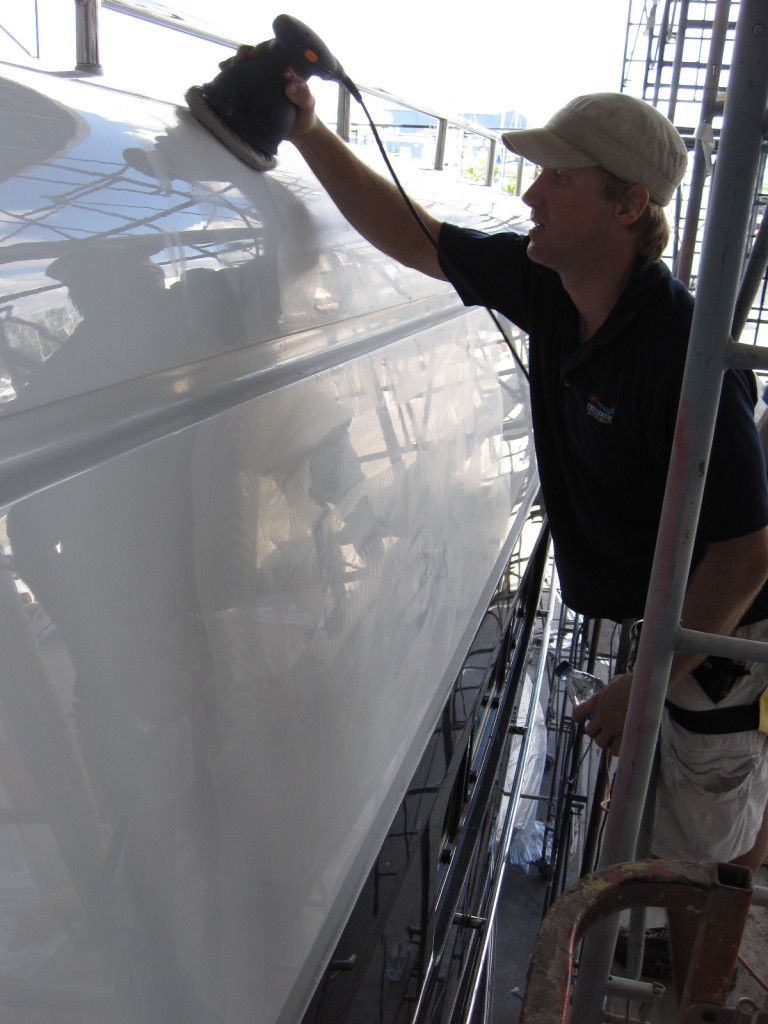 A vessel's shine and show finish is a powerful image which sets your boat aside from the rest. Cosmetic integrity is highly dependent on the way the vessel is cared for. The shelf life of your yachts paint finish or gel coat can be quickydeminished when failing to address the common offenders.
Polishing and Wax Damage
Cause: Aggressive polishing by untrained crew welding high speed polishers can cut deep lines into your boats painted and gel-coat surfaces. Once fouled these areas need polishing and waxing more regularly and micro finished with a finer product to close substrate.
Solution:
A proper wash down before polishing is critical in removing dirt and abrasive trash on paint and gel coat substraits. If not removed these elements will etch and scratch the paint upon polishing.
I recommend starting with the least aggressive product to remove hazing and oxidization, do a test spot, if the oxidization is not removed to full clarity use a more coarse product. Avoid using silicon based waxes. Remember after cutting out oxidization micro finishing is neccessary to close up substraite pores. This is often neglected as freshly cut paint looks nice and shiny but is open and exposed.
Strong wax stripping agents or abrasive scourers will damage the paint and gel-coat. Remove them from your deck supplies and keep in the engine room.
A nano-polymer is recommended to maintain surface protection. When used on a periodic base the life span of your paint job is drastically increased by keeping contaminants from entering the substrate.
Always hire trained, licensed crew to do polish work. Trained cosmetic detail specialist keep buffer speeds under 2,500 rpm. Bedesecrationary when hiring anyone to polish or refinish your boat. Listen intently to the product types, steps and procedures. Be leery of under bidders as they usually come with in-experienced and careless crews totting cheap abrasive products.
Fender Scratches and Abrasions
Cause: Sand and abrasive dirt on the surfaces of your fender socks or bare fenders will scratch your yachts beautiful paint and gel coat surfaces as they rub the paint constantly applying pressure.
Solution:
Use fender socks to cover your naked fenders.
Wash, clean and care for the fender socks covering your fenders to free them of abrasive dirt. This happens commonly when a boat is docked in one location for a long period of time.
It's important to place fenders higher up on the piling where the surface are often much cleaner.
New peel able coatings are being designed that adhere to the painted or gel coat surface to protect fender rub and scratches. Make sure you check with the paint manufacturers first.
Giving the hull a thorough wash down is imperative to removing dirt and abrasive elements that will press into the paint if not removed.
Blisters
Cause: Galvanic reaction (electric currents being created by chemical reactions between two dissimilar metals) seen as bubbles forming under the paint.
Solution:
Apply Tefgel coating to all metal on metal fittings during maintenance periods and where possible, change non load bearing stainless bolts for nylon ones or use Delrin (polyoxymethylene) washers. This prevents dis-similar metals from touching one another.
Apply Boeshield anti-water penetration spray to all hand rail base to prevent water seepage and rust emittance.
Chips and Scratches
Cause: Common docking accidents caused by tenders colliding with swim platforms or when tying up along side. Also when metal objects like deck poles or product cans slam into the paint or sub strait.
Solution:
Mindfulness when dragging water hoses or electrical cords across painted surfaces. These collect small rock fragments from the yard or docks concrete that will scratch painted or gel coat surfaces.
When in doubt about a repair always consult the paint or yacht manufacturer.
Use a stripling paint method it's recommended above strait paint strokes.
When repairing or repainting keep it as small and contained as possible to minimize conflicts in shade and shine of the original painted surface near by.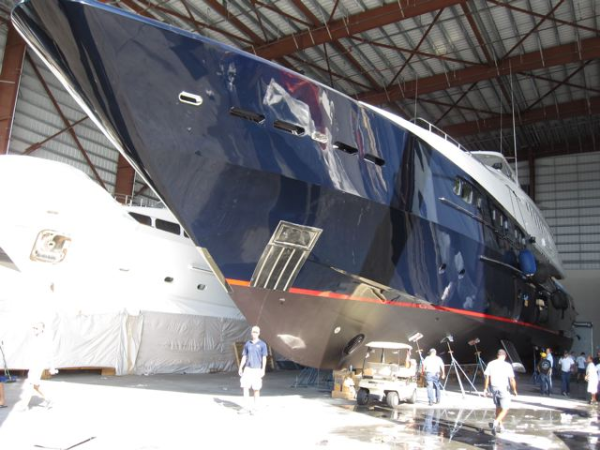 We're anxious to hear about the common threats posed to your vessels cosmetic surfaces and any solutions or trick of the trade you might be able to suggest.-Josh Cunningham (owner)
Freedom Yacht Management
Clean and Care Specialist