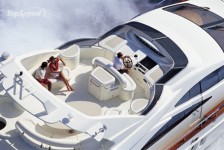 Welcome to Miami…ok I just had to say it, it's the afternoon, Friday April 11th
Day 1- The private shuttle escorts guest to Miami City marina where the vessel is looking beautiful, trimmed with flowers and provisioned ready for her next day cruise. Guest get some sun bathing in, relax and unwind on the sun deck, appetizers are served, champagne cracked open. Showers and downtime follow before Limo picks up guest at 7pm and ushers them to the famous Delano Hotel (Historic art deco hotel) for a Hemingway mojito or cosmo on the spanish tile patio, under sweeping linen curtains and slow moving fans, walk hand in hand down the beautiful lawn rolling to the beach ( I met my wife here,, true story) At 9:00 reservations at Bond Street Sushi just a short stroll north, the best most quaint little bistro sushi spot located in the basement of the Bond Street Hotel within walking distance- this place is a Miami speak easy of sort, very special with a hint of club. After dinner a nice stroll along the board walk to take in the Miami lights and amazing Art Deco buildings, perhaps a night cap at the Clevlander Hotel to take in the night sounds and dance to the muranga rhythms.
Day 2- The crew and captain are Ready to go at 10 am, the yacht takes off and heads South for Hawks Cay Resort  , check the link in blue (romantic private island south of Miami) 3 pm the yacht ties up on the face dock of Hawks Cay, crystal clear water for ions, a lovely late afternoon lunch is served and guest retreat to the pool,, and or remove the small boat from the top of yacht and go for a tender cruise, looking for a good snorkeling spot, Evening Dinner reservations at the resort 8pm-local stone crabs, hot snapper and fresh seafood civeche,,,wow.
Day 3- Up for a fresh breakfast on the yacht's aft deck before departing for Key West, test the chef's skill with Lobster eggs benidict, crepes and fresh memosa- 11 am departure and nice 4 hr cruise down Hawk's channel all the way to Key West tying up at 4pm just in time for a quick shop on Duvall street, a hemingway cocktail at Captains Tony Saloon and a walk to Mallorysquare for the most famous sunset in the US and southern mos. Arrive back to the yacht to shower and rest up for a romantic candle light dinner aboard as the chef has picked up some fresh catch and will soon break out that special wine in store.
Day 4- After a morning work out or walk a massage therapist is arriving at the yacht around 11 am to perform on the sun deck, work out  what remaining stress is there.  Time to get local for a 1pm tour of the american icon Earnest Hemingway's house,, really neat exhibit to take in.  In the afternoon it's time to shop or rent 2 bicycles and explore (awesome couples activity as you can pretty much case the island in a few hours so many neat things to see) sun downers at Half Shell Raw bar (one of oldest sport in key west and famous oysters) before peddling down to Mallory square for another killer sunset and to laugh at the street performers doing things Stanley Kubrick could'nt imagine. Evening dinner is a surprise, maybe a tasty beef wellington or an Italian night aboard your yacht? 
Day 5- Morning Breakfast is served after which guest take a stroll down Duvall street one last time picking up all the little gift they had been talking about before departure, make sure to get a proper Key lime pie for the crew:) Back to the yacht for a 11 am departure and beautiful cruise down Hawk's channel back to Miami City Marina. Arrival into Miami around sundown, time for one last amazing dinner on South Beach at Nobu (rated #1 dinner spot on the beach or Zuma which is in the city and my favorite dinner spot in Miami)–
Day 6- Starts with fresh juice, expressos and pastries followed by a board walk work out, back to the yacht to shower and finish that Tom Clancy novel up on the sun deck before a departing lunch of fresh greens and taco salad, one last toast to the amazing vacation Adrian has but you up with, your bags are shuttled out by your fabulous crew, everyone walks to the taxi or limo arriving at 1pm, hugs, kisses and sunshine farewells as your cab pulls away from Miami City Marina, up over the bridge and back to Miami International airport for your flight home.
80 Azimut Key Charter- 6 day
Cost=$32,100 (including chef)  + expenses
         $ 30,000 (without chef) + expenses
Expenses include fuel, dockage and provisioning and are typically estimated to be between %15-25 of charter cost
Call Josh @ 954-732-8916 for details and booking dates